The Seven Principles of Leave No Trace are an ethical framework of minimum impact practices for anyone visiting the outdoors.
Each Principle covers a specific topic and provides detailed information for minimizing impacts.
Plan ahead and prepare
Travel and camp on durable surfaces
Dispose of waste properly
Leave what you find
Minimize campfire impacts
Respect wildlife
Be considerate of others
Social Media & Geotagging
The rise of the Internet, and social media in particular, as a tool for researching and sharing locations has led to significant resource impacts. Social media can be a force for good — but it can also have an opposite effect. Leave No Trace asks us to ask ourselves: "How will this location be impacted by its promotion on Instagram, Facebook or Pinterest?"
Following LNT's new social media guidelines, it's currently best practice to geotag a larger, more general area.
For example, instead of tagging "Peekamoose Blue Hole" or "Giant Ledge", tag photos of these locations as "Catskill Park".
You can also simply not location-tag your social posts at all.
These actions reduce Internet eyeballs on specific locations, a major driver of real-world foot traffic to popular spots — and often leading to increased litter, erosion, and even vandalism.
For this reason, this website's associated social media posts very rarely geotag specific locations.
Leave No Trace isn't black or white, right or wrong. It's a framework for making good decisions about enjoying the outdoors responsibly. You can read more on the LNT.org website.
The outdoors are facing serious threats. Ensuring you practice Leave No Trace is essential.
The 7 Principles have been adapted so that they can be applied anywhere — from remote wilderness areas, to local parks, and even in your own backyard.
The 7 Principles of Leave No Trace
1. Plan ahead and prepare
Poor planning is so risky. The DEC regularly has to locate and rescue lost or injured hikers from these hills. I wonder if "The Catskill Park" is the wrong term for what, really, should be marketed as the "The Catskill Park & Wilderness".
Research the terrain.
Plan for an average of 1.5 miles per hour hiking these hills, especially if you're new to hiking.
Check the weather.
Know what time sunset is at.
Start as early as you can, especially in the late fall and winter when the darkness descends by late afternoon.
Allow for mistakes and tiredness.
Always pack The 10 Essentials.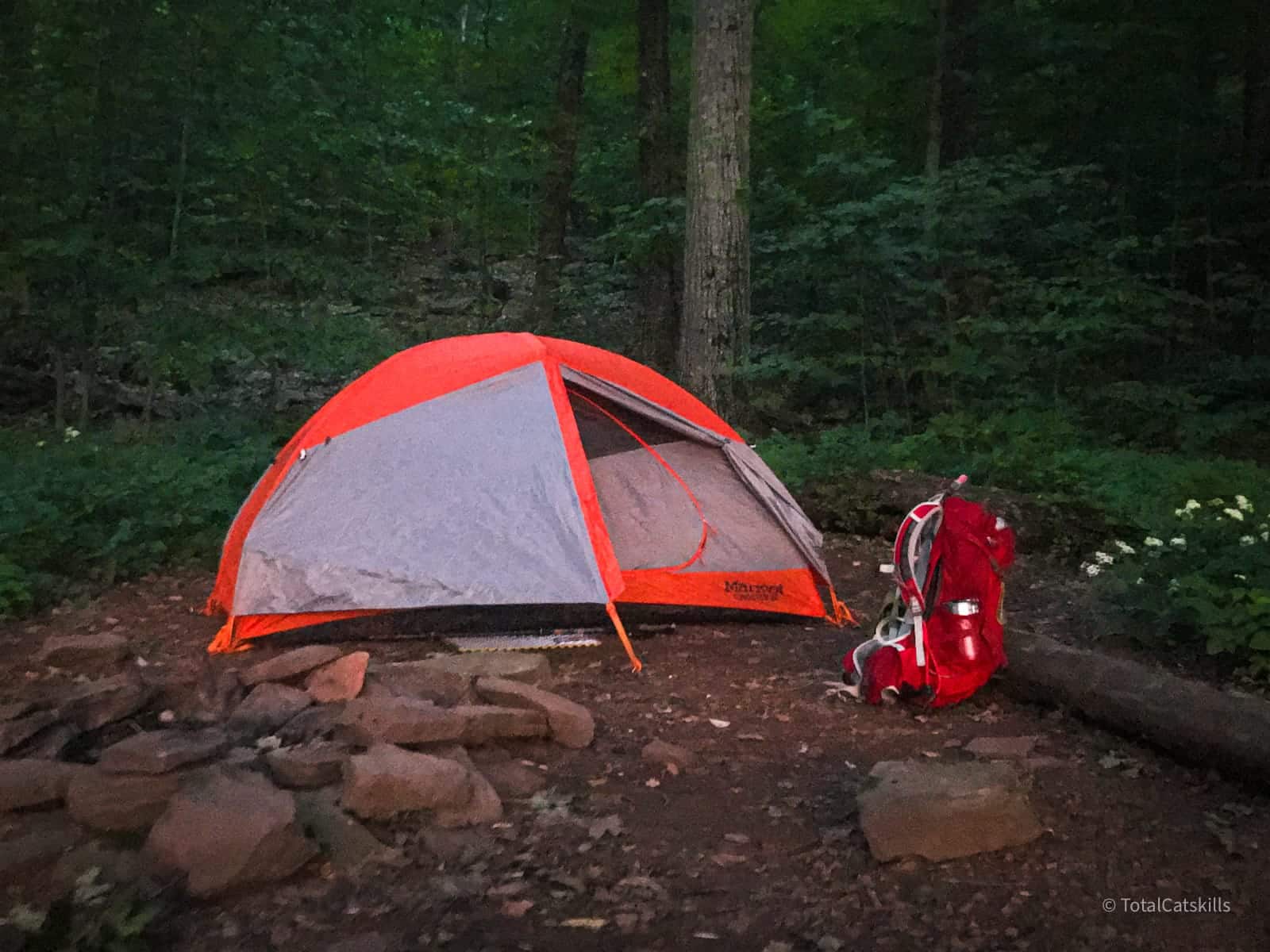 2. Travel and camp on durable surfaces
All trails are scars. We travel on well-maintained trails to avoid damaging the terrain and vegetation, which is fragile, and to avoid developing new, unplanned scars.
For example, if there's a switchback, stay on it, even if you can see the trail right above. Stay on the trail. A shortcut here leads to soil erosion which damages the trail and the mountain quickly.
3. Dispose of waste properly
If you pack it in, pack it out. Pack in as little as possible. Your pack will be lighter and you'll have less to keep track of.
Don't leave organic matter behind assuming it'll compost quickly. Many common snack foods take years to decompose.
If you find litter, be kind and pack it out in a plastic bag so someone else doesn't have to see it.
If you set up a camp, it's easy to leave a little piece of litter behind so, when you're leaving, take one last look around just to be sure.
4. Leave what you find
Leave No Trace doesn't only mean not damaging anything, it also means leaving things as you find them. Something taken is something changed. Stop and smell the flowers — but don't pick them.
Do not turn over rocks or logs — this disturbs living habitats
Do not build cairns for anything except marking tricky navigation locations — their intended use
Do not leave painted rocks in the woods — they add chemicals to nature
5. Minimize campfire impacts
Stoves are the way to go. Campsites quickly deplete the surrounding found wood supplies, forcing campers to trek into the woods and maybe even cut limbs from trees (which is illegal).
"Stoves have become essential equipment for minimum-impact camping. They are fast, flexible and eliminate firewood availability as a concern in campsite selection. Stoves operate in almost any weather condition—and they Leave No Trace." [Source: LNT.org]
6. Respect wildlife
Most animals are extremely sensitive to noise, finding it intrinsically stressful. In the Catskills, it's one of the main ways we keep bears at a distance; they hear us coming and run away. Never pursue an animal. Touching or handling wild animals is frightening for them. It's also potentially dangerous for us. Even touching something small, like a cute-looking hickory tussock moth caterpillar, can mean a trip to the emergency room.
7. Be considerate of others
Our lives are so crazy busy now, most of us go into the woods to get away from it all, to feel solitude, or calm, to listen to nature — which is mostly pretty still and quiet; and that stillness is the most delicate resource.
I solo hike a lot, and I recognize that solo hiking is different for a man than it is for a woman. 99% of people are great, but I've a few yikes-adjacent interactions. If I see someone coming, male or female, I always announce my presence so nobody is startled. I say Hi! and keep moving.
If you're walking downhill and meet someone coming up, step aside to let them pass; the person working against gravity is given the benefit.
Conclusion
Those are the 7 Principles of Leave No Trace.
You can pick up a few more LNT tips and tricks.
And you can dig deeper into outdoor ethics at LNT.org.
Read More
Get full access…
Get instant access to the full version of this site and enjoy great supporter benefits: full galleries, full trail notes, early access to the latest content, and more.
Hot on the website right now…
Follow for more…
Follow my @TotalCatskills content on Instagram for regular hiking inspo and safe, inclusive community.